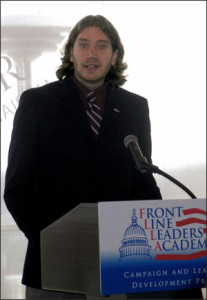 There are a number of issues facing Gloversville and Fulton County, but, through investing in our community, we can work to make our city and county a healthy, safe, and sustainable community for our families.
To effectively do this, we need to consider what we want our area to be in the future and take actions to bring that vision to reality.  That's why I oppose wasteful spending and support smart investments that will improve our overall quality of life.
For example, investments to improve public health will allow residents to live healthier, better lives overall. The Telehealth Initiative between Fulton County Public Health and Office for Aging will allow residents to consult with doctors and medicial professionals without having to travel so far. Doing what we can locally to address the national opioid epidemic and investing in youth and workforce developments are other ways we can build a healthier, stronger community.
Creating a land bank in the county is another way we can be prepared for the future.  Land banks, like the one recently established in Amsterdam, take blighted properties, improve them, and put them back on the tax rolls.  Instead of eyesores, we can have homes lovingly maintained by owner-occupants.
Making energy efficiency upgrades is one way we can be both economically and environmentally sustainable.  In 2014, Fulton County embarked on an efficiency project that slashed our energy consumption.  This project was done without any taxpayer dollars, since the project is paid from energy cost savings. This year, the County is in pursuit of a "Clean Energy Communities" designation.  We should encourage homeowners and businesses to consider similar opportunities to reduce their energy bills.
Our area is well-situated for growing industries.  We're in the nano triangle linking, Malta, Utica, and  Albany and FMCC has a nanotech curriculum to train students for tech jobs.  Likewise, our farms and agriculture make us a great location for agri-manufacturuers, like Fage.
Our downtowns are poised for a renaissance.  By focusing on the arts and niche businesses, such as Mohawk Harvest Cooperative Market, we're once again creating a place people want to come together.  We need to harness our momentum, it will pay dividends for our entire city and region.
COMING TOGETHER
I can't do all of this alone.  It takes us all coming together to make an investment in our community.
The Board of Supervisors does a great deal in determining the future of our county.  With your help, I will continue to work to make county government more sustainable and efficient, improve the community's health and well-being, and fight for the neediest among us.