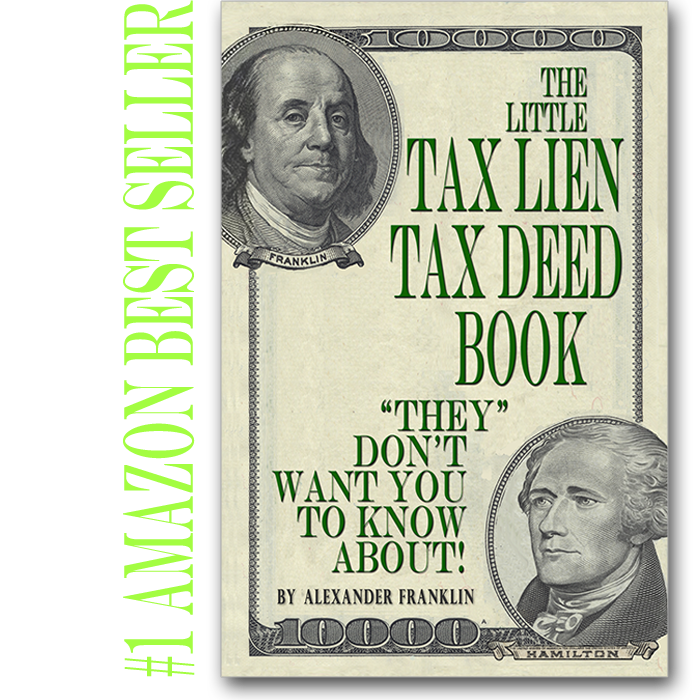 Everything You Always Wanted To Know About Tax Liens
Welcome to the tax liens tax deeds web site of author and investor Alexander Franklin, author of the controversial best-selling financial classic, The Little Tax Lien Tax Deed Book ("They" Don't Want You To Know About).
This web site features short selections from that book, along with ordering information. Plus:
Pages that serve to update links and other resources in the book.
Thoughts and reflections on tax lien and other forms of investing by Alexander Franklin on the site blog.
Updates on upcoming talks and appearances.
And occasional selections from his upcoming book on tax liens.
Enjoy your visit!  And don't hesitate you share your thoughts and  input.
"This book is extremely concise and well-written. It delivers information in a manner that is clear-cut and easy to read… he expounds great insider information in detail, which is invaluable, and he could be selling the book for much more, the price makes it a real steal. If you are looking to get into real estate investing this book is the first investment you need to make. One that will have exponential returns on it."
Isantis
"Best book on the topic.  This book has said things in such a easy to understand way that I feel confident in doing this.  I can't wait to go to my first auction and look like a pro!  Thank you Mr. Franklin!"
Danny Cashman
"This is an indispensible book on the topic of tax lien investing. It makes a complex subject clear and simple. It's a pleasure to read. And it shows you how to approach tax lien investing in ways I have just not seen covered at all — much less as well — anywhere else.
"Five stars isn't enough. This is required reading for anyone interested in tax liens and tax deeds."
Donald Honeywell
"The book demystifies a complex subject and provides some valuable information. I was far from an expert on the topic when I picked the book up, but feel more confident now that future decisions I make will be better informed."
Frank J. Edwards